Here are some of the best easy, low carb and keto zucchini lunch + dinner meals, sides + baked dessert recipes!
There are Italian fritters, cheesy gratin casserole, zucchini "macaroni" and cheese, chocolate brownies, shrimp scampi zucchini noodles, vegan zoodle salad, the best zucchini pizza crust and more!
*Images used with permission.
---
Easy Italian Keto Zucchini Fritters
Recipe + Photo by Wholesome Yum
---
Keto Zucchini Crust Pizza
Recipe + Image by Kimspired DIY
---
Keto Zucchini Gratin (Gluten-Free)
Recipe + Photo by Delicious Little Bites
---
6-Ingredient Zucchini Bagels (Low Carb, Gluten-free)
Recipe + Photo by Wholesome Yum
---
Keto Chocolate Zucchini Brownies + Frosting
Recipe + Photo by Low Carb Yum
---
Low Carb Vegan Thai Zoodle Salad
Recipe + Photo by Yum Vegan Lunch Ideas
---
Low Carb Keto Shrimp Scampi with Zucchini Noodles
Recipe + Photo by Wholesome Yum
---
Keto Zucchini Bites with Parmesan
Recipe + Image by Kimspired DIY
---
Keto Mac and Cheese with Zoodles
Recipe + Photo by Delicious Little Bites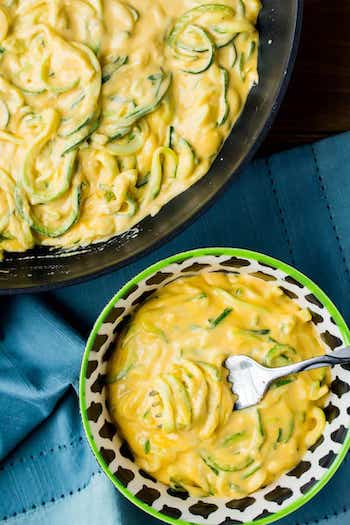 ---
You might also like: