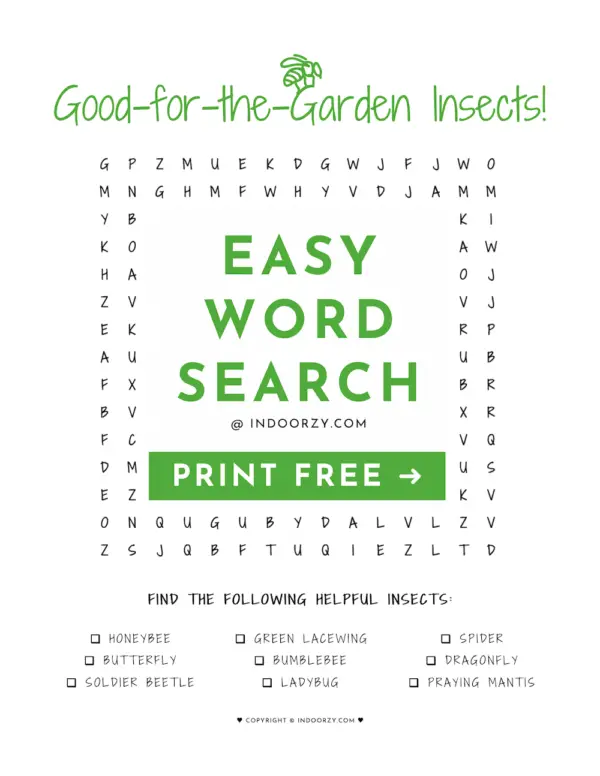 (Scroll to the bottom to get your FREE printable PDF!)
The Perfect Activity to Learn / Teach About Good Insects for the Garden!
If you've been searching for free printable word searches for kids, or maybe a fun and easy way to learn about gardening, or insects or BOTH, look no further!
This adorable word search is the perfect quick and easy activity to start learning / teaching about good bugs for a garden!
But it's great for adults too — just hard enough to take a few minutes of your time, with words going horizontally, vertically, diagonally or backwards.
Sizing + PRINT Color:
You can print on standard 8.5″ x 11″ copy paper.
If using a black and white printer, the green title will print as gray.
INCLUDED Garden Bugs to Find:
Bumblebee
Butterfly
Dragonfly
Green Lacewing
Honeybee
Ladybug
Praying Mantis
Soldier Beetle
Spider
Terms of Use (Printing + Sharing This Word Search)
Once you claim your free PDF (see below!) you are free to print it out as many times as you like for your personal use, within reason. Basically, this means for you and your household, or for your classroom or other small group.
If you would like to share it with friends, other teachers, etc. please do not share the file directly, but rather point them to this very page!
Here's the link you can copy and share:
https://indoorzy.com/free-printable-word-search-good-garden-insects/
Or, you can also use these here share buttons:
Subscribe to Claim Your FREE Printable Word Search!
Enter your email below to claim your free word search + receive occasional other freebies, tips and offers from Indoorzy! Unsubscribe at any time!