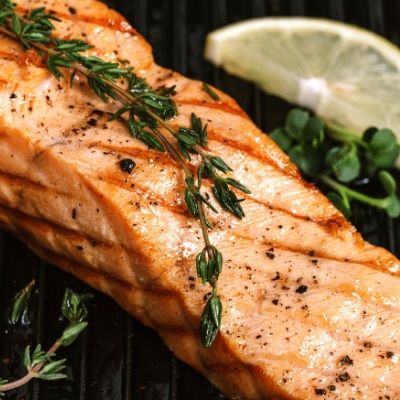 Salmon is America's most popular fish, and I'm not surprised at all! It tastes great and it is so good for you! And when you see these Delicious ways to Enjoy Salmon, I bet you'll be wanting to try them all!
One of my favorite things about Salmon is that it is so versatile. You can cook it in a pan or bake it in the oven. And it tastes spectacular on the grill. But there are so many fun recipes you can make with it, too!
I collected some great Salmon recipes for you – there are Salmon Patties and Salmon Chowder and some creative ways to bake it and grill it, too.
---
Salmon With Brown Butter Almond Sauce
"You've never had a salmon recipe like this! Savory salmon with brown butter almond sauce is an under 30 minute quick dinner recipe that fits keto, paleo, low carb and Whole30 diet plans"
(per serving):
Calories: 626
Protein: 29g
Fat: 55g
Carbs: 4g
Find the recipe at Tales of Lizzy T.
---
Salmon Tacos
"These Salmon Tacos are topped with homemade salsa and avocado sauce and accented with fresh cilantro. These tasty fish tacos are perfect for a crowd!"

(per serving):
Calories: 119
Protein: 14g
Fat: 4g
Net Carbs: 6g
Find the recipe at Amanda's Cookin'
---
Sheet Pan Honey Lemon Salmon
"What I love about this recipe is that it's almost foolproof. Meaning it's nearly impossible to end up with dry salmon because the salmon bakes in a mixture of butter, honey, and lemon juice. Simple ingredients that pack a ton of flavor."
Find the recipe at Averie Cooks
---
Hearty Gluten-Free Salmon Chowder Recipe
"This creamy salmon chowder is a fun and delicious twist on classic chowder. It is simple to make and the the salmon and vegetables add a hearty texture."
(per serving):
Calories: 385
Protein: 14g
Fat: 29g
Carbs: 18g
Find the recipe at Arts & Crackers
---
Mojo Salmon Bowls
"Cuban-inspired, healthy, and nutritious Mojo Salmon Bowls made with salmon, black beans, grilled pineapple, and avocado."
(per serving):
Calories: 366
Protein: 9.8g
Fat: 20.9g
Carbs: 37g
Find the recipe at Chelsea's Messy Apron
---
Baked Teriyaki Salmon
"This easy sheet pan teriyaki salmon is the perfect weeknight dinner!"
(per serving):
Calories: 239
Protein: 6g
Fat: 4g
Carbs: 31g
Find the recipe at Eat. Drink. Love.
---
Honey Mustard Salmon
"This Honey Mustard Salmon is quick, easy and perfect for busy weeknights! A whole salmon fillet in a delicious and epic honey mustard sauce gets baked in foil to flaky perfection!"
(per serving):
Calories: 347
Protein: 34g
Fat: 17g
Carbs: 13g
Find the recipe at Jo Cooks
---
Marinated Salmon With Garlic and Herbs
"This marinated salmon is fresh salmon fillets flavored with olive oil, garlic and herbs, then grilled or baked to perfection. You'll want to grill salmon all summer long after you taste this easy marinade!"
(per serving):
Calories: 274
Protein: 23g
Fat: 17g
Carbs: 4g
Find the recipe at Dinner At the Zoo
---
Blood Orange Salsa Salmon
"Blood oranges make a wonderful salsa enjoy it over this honey crusted baked salmon."
Find the recipe at Like Mother Like Daughter
---
Spicy Lime Grilled Salmon
"This easy grilled salmon is bright and delicious with a two-minute marinade – perfect for summer grilling and busy weeknights alike!"
(per serving):
Calories: 425
Protein: 35g
Fat: 29g
Carbs: 2.7g
Find the recipe at My Life as a Strawberry
---
Grilled Chipotle-Orange Salmon
"Sweet and smoky and beautifully spiced, this Grilled Chipotle-Orange Salmon promises to become a grilling season obsession!"
Find the recipe at A Farm Girl's Dabbles
---
Salmon and Veggies En Papillote (In Parchment Paper Packs!)
"This Salmon En Papillate (Baked in Parchment Paper) is my new favorite way to prepare salmon. It's a super simple, Whole30-compliant, and paleo-friendly dinner option for any night of the week! The lemon, fresh herbs and shallots make this salmon such a bright, light and flavorful salmon recipe, and the vegetables cook right with the fish for an easy clean up!"
(per serving):
Calories: 240
Protein: 25g
Fat: 1g
Carbs: 7g
Find the recipe at Lexi's Clean Kitchen
---
Hot Honey Roasted Salmon
"This hot honey salmon is flakey and buttery with a hint of heat and a spritz of lemon. It's an easy weeknight meal and is delicious on salads for lunch!"
Find the recipe at How Sweet Eats
---
Tomato Basil Salmon
"This Tomato Basil Salmon won our hearts from the first bite. It's super simple, gluten free and bursting with Italian flavor! A perfect weeknight meal that, from start to finish, takes 15 minutes!"
Find the recipe at The Girl Who Ate Everything
---
Salmon Patties
"Crunchy on the outside and tender on the inside, Salmon Patties are a flavorful, quick and easy recipe for getting more brain-boosting, heart-healthy omega-3s into your diet!"
Find the recipe at Five Heart Home
---