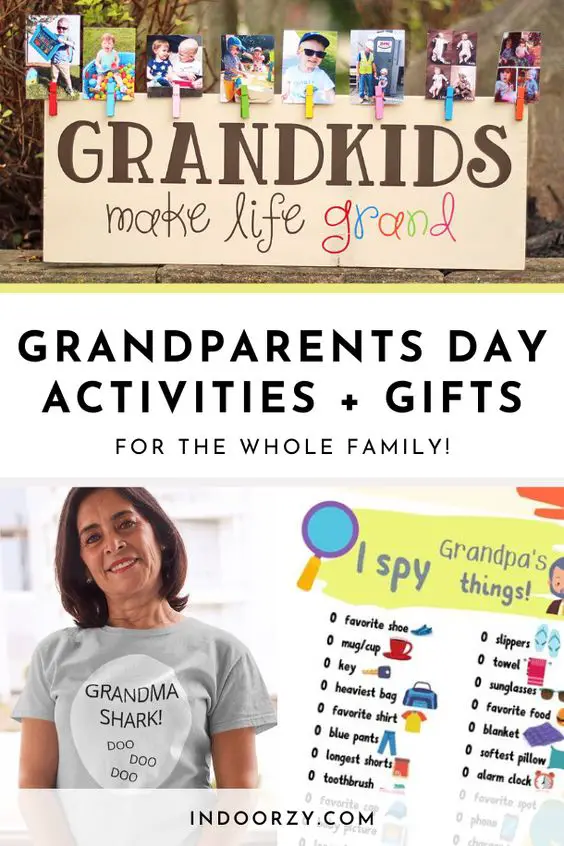 Grandparents Day is a time to celebrate and show appreciation for our grandparents! But what exactly should you do for Grandparents Day?
If you have no idea what to do for Grandparents Day or what makes a good gift for grandparents, you're in luck! I've collected some adorable, fun activities and crafts for the whole family to give you some inspiration, as well as some DIY and store-bought gift ideas for Grandma and/or Grandpa.
So let's get started!
---
*This post may contain affiliate links, which means I'll make a commission if you make a purchase. Images used with permission.
---
Best Grandparents Day Activities + Crafts Ideas
Perfect Grandparents Day Activity for Kids: Interview Their Grandparents!
Here's a perfect fun quality-time activity for kids to do with their grandparents on Grandparents Day: get to know them better with an interview!
You can print out these adorable FREE fill-in-the-blank interview printables from Where The Smiles Have Been and have your kids practice their penmanship by filling them out during the interview! 😉
---
Scavenger Hunt Kid's Activity to Find Grandpa's Things!
Another fun way for kids to spend some quality time with Grandpa (and get to know him a little better too!) is this "I Spy Grandpa's Things" Free Printable Scavenger Hunt Activity by Crafted with Bliss! (NOTE: you can pay $1 for the printable, or enter your email to get it free!)
---
Grandparents Day Craft Activity for the Whole Family: Fingerprint Family Tree!
Here's something you, your kids and the rest of the family can do WITH grandparents and then give to them as a keepsake – a DIY kit to make a family tree of your thumbprints!
---
Make Homemade Grandparents Day Gifts with Your Kids!
Another great activity you and your kids can do together is to make homemade Grandparents Day gifts! Keep reading for some great ideas!
---
Best Grandparents Day Gifts
If you like, you and your kids can make something homemade to give Grandma and Grandpa, or you can buy something. I've got some great affordable options either way!
---
DIY + Homemade Gift Ideas for Grandparents Day
"Grandkids Make Life Grand" DIY Photo Display
An adorable DIY keepsake for grandparents to proudly display photos of all their grandkids!
---
Duel-Sided "Grandpa" + "Dad" Etched Glass Project (Gift from You AND Your Kids!)
This DIY duel-sided glass project is the perfect gift to give to Grandpa, from both you and your kids (to "Dad" and "Grandpa"). It also makes for a great Father's Day gift!
---
Pre-Made Grandparents Day Gifts
"Welcome to Grandma and Grandpa's House" Admission Sign
---
Fun Grandma + Grandpa Shark Tees (for Baby Shark Song Fans)
If your family is a fan of the Baby Shark song, these his and hers Grandparents tees by Shrimp Salad Circus will make for great fun gifts!
---
More Gift Ideas for Grandmother
"Grandma's Brag Board" Grandchildren Photo Display
---
"Made Like You" Glass Cross + Note
---
Generations Necklace (for Grandmother, Mother + Granddaughter)
---
More Gift Ideas for Grandfather
"I Love You Grandpa" Picture Frame
---
"Best Grandfarter Ever" Funny Mug
---
"My Favorite People Call Me Grandpa" Shirt