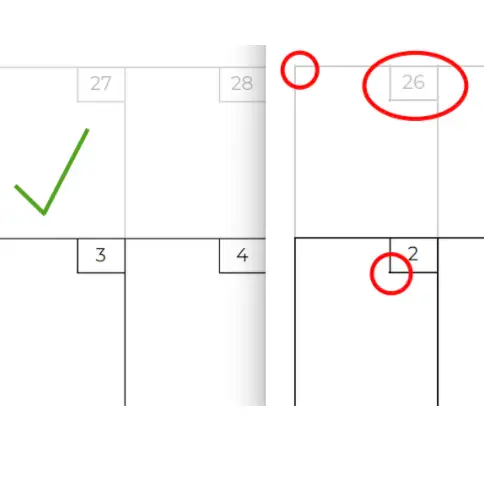 As you may know, I like to create PDF printables as freebies here on my blog, and also for my shop.
Since I use a Mac computer and usually open PDFs in Mac Preview, I didn't realize a "problem" with some of my PDFs (as well as other people's PDFs), that I ONLY seemed to have when viewing them in Adobe Acrobat Reader: the lines in many PDFs appeared disjointed, over-extended and sometimes varied in thickness, even though the same PDF looked great in Mac Preview and when printed!
Don't get me wrong — I'm aware that there are plenty of printables out there that are simply designed a little sloppily, and that many people really don't seem to be bothered by it.
But I'm one of those people that can't handle sloppy lines and double-checks everything zoomed in and out 😉
So here's a closeup example of how the lines in one of my calendars looked over-extended at almost every connection point in Acrobat reader (whereas they should have appeared smooth and crisp).
The left side is how it should appear, and the right is how it appeared in Acrobat Reader:
(You may need to zoom in to see more clearly)
This issue seemed to be particularly problematic with thinner lines as opposed to thicker, which was a problem for me because I love a thin line 😉 (and therefore tend to use thin lines in my printables)!
Are a PDF's Lines Actually Distorted? (or Just in Acrobat Reader?)
Seeing how some of my printables were appearing in Acrobat actually sent me into a bit of a panic, thinking perhaps there was something wrong with my design, or maybe the design program.
And even if a buyer would be printing out the calendar anyway (and hopefully see that it prints great!), I still worried that seeing it on their screen this way BEFORE printing would give a bad impression… I mean, I know I'd be a little skeeved if I'd just purchased a PDF that looked like this on my screen!
And since I'd love to focus more on creating fillable PDFs that are MEANT to be viewed on a computer, I was at a loss for what to do.
So, I spent a full day trying to re-create this calendar in several different design programs, with similar-to-worse results!
Here's a screenshot of the same calendar design exported from a different tool. Now the connection points don't appear as distorted, but the THICKNESS of the lines is all over the place (though they are supposed to all be the same).
It seemed that no matter WHAT I did, this calendar design just looked bad in Acrobat.
And I couldn't find ANYONE talking about this issue online, even though I was having the same problem viewing some PDFs I purchased from other printable creators.
I wasn't sure whether no one else was actually having this problem, they somehow didn't notice it, or they noticed it but just didn't care.
But I sure noticed it and it was driving me nuts!
Thankfully, I figured out that the problem seemed to be caused by a setting within Adobe Acrobat — not my design, or particular design program!
Simple Fix to Distorted Lines in Adobe Acrobat Reader (for Designs that aren't Actually Distorted)
So after all that, I started poking around the settings inside of Adobe Acrobat. And amazingly, I hit on a one-click "fix" that seemed to instantly make everything appear as it should!
It's a setting called "Enhance Thin Lines," which is misleading because it actually seems to make lines (thin lines, that is) look UN-enhanced!
I guess it is meant to help make REALLY thin lines more visible… but I can't imagine this is necessary all that often (and I assume it would still make them look distorted).
And the worst part is, this setting seems to be enabled by default!
Disable "Enhance Thin Lines" Setting on Mac
Under Acrobat Reader > Preferences > Page Display, I noticed an option was checked called "Enhance Thin Lines."
I really didn't expect this to be the answer to my problem, but since I WAS only having issues with thin lines…
I unchecked this option, closed the PDF and re-opened it in Acrobat… and voila!
Everything looked as it should (YAY!)!
Disable "Enhance Thin Lines" on Windows
I tried this on a friends Windows computer, and it worked the same way except Preferences was under the Edit menu.
BTW this option was also apparently auto-enabled for my friend!
Video of Distorted PDF Lines in Acrobat Reader (on Mac)
A Few Things to Note
After disabling this setting I still sometimes see TINY distortions here and there in Acrobat, but they are more like a blip I likely wouldn't have noticed if I wasn't already looking for it.
I'm not sure if this setting is auto-enabled for everyone by default inside of Acrobat Reader. It seems that it was for me (AND my friend), because I don't remember enabling it manually, but I could be wrong!
I'm not sure if this setting or the steps to change it is the same for different Adobe PDF Reader versions on Mac / Windows, but if you have trouble finding it, first find wherever the Preferences menu item is, and it will hopefully be in there!
Not Seeing Your PDF Update After Changing This Setting?
Try closing out the PDF and re-opening it after changing this setting.
---
If you found this post helpful, share it with someone else it could help! 🙂